Who we are? How we started?
Vision Infra has evolved as a brand for quality and promptness. To support people in leading happier, healthier lives, we are on a mission to design environments and experiences.
In 2005, we started our journey. Since then, we've completed the construction of prestigious projects like Vision's Infinity Homes and Vision's Urjith. We recognised the strength of design and its beneficial effects on a person's perception of space. We rekindled our urge to test the limits and attempt novel experiences. We enjoy claiming that our pride is evident. We take great pride in delivering quality luxury homes we construct and the reputation we've established for ourselves in the housing market.
We require one another now more than ever in a world that sometimes seems increasingly lonely. We have faith in the strength of the community. We are a sociable species that like to congregate and depend on one another to survive. We can strengthen our social fabric and do immeasurable good for our community and the earth that nourishes us all by relocating closer and watching out for one another.
The constructed environment is where we spend the majority of our time. What if your emotional, mental, and physical health came first in every environment you interacted with? What if you were urged to slow down, be present, and live in the moment? This is the imagined future.
We at Vision Infra are revolutionising the real estate industry. Our core team has decagon of experience working on high-profile projects in and around Hyderabad. One of the most recognized and rapidly expanding builders in the Hyderabad market is the result of that vision and its guiding principles. We hope that if you live in one of our houses, your life will be improved and you will discover a new lifestyle and a significant relationship with the space. Everybody is entitled to a happier, healthier existence. We'll aid you in locating yours.
Learn
We are always learning. We regularly examine and assess our processes, systems, and technologies to develop and adopt new best practices and improve project outcomes. Our urge to learn and update ourselves brings us closer to our ultimate objective of achieving 100% customer satisfaction.
The Promise
Vision Infra is committed to becoming the best builder in the industry. We consistently work to go above and beyond industry standards regarding project performance, customer retention, and team member satisfaction. To that aim, we think that striving for perfection is both honourable and possible. We carefully and consistently look for ways to improve our standards and produce unexpected outcomes. The objective is complete customer satisfaction, regardless of the customer's status as a new or returning client, a collaborator in design or engineering, a facility user, a subcontractor, a tradesperson, or an employee. We invariably strive for 100% or the most significant level in everything we do. That's our Promise.
Deliver
We employ highly skilled, seasoned, and successful people for our projects. They are aware that a successful project provides value in unforeseen ways in addition to being completed on schedule and with utmost quality. Total customer satisfaction is always our aim because recurring business from clients is the foundation of our success.
Vision Infra brings to you the Building Revolution. It all started with realistic
appraisal of your living needs.
PROJECT NAME: INFINITI HOMES.
LOCATION: TELLAPUR, HYDERABAD.DEVELOPMENT
SIZE: 23 ACRES
NUMBER OF UNITS: 107 VILLAS
Sequestered in a prime area with 23 acres of magical seclusion, Infiniti Homes is your ultimate destination in luxury living. Located at Tellapur, Hyderabad, Infiniti Homes is just a 5 minute drive from Wipro Junction, Gacchibowli. A community of 107 stylish luxury villas, Infiniti Homes is nestled within a plush community, surrounded by emerald green fairways and offers some of the finest amenities. with add on comforts like pools, Jacuzzis and gardens.
Each Villa is conceived to exist in perfect harmony within natural surroundings. With an American- Inspired layout creating a seamless marriage between indoor and outdoor living environments, all the while maintaining complete privacy through dramatic and classy landscaping. You can enjoy beautiful vistas of the surrounding nature all day long, with plenty of space for large family gatherings or to find your own quite corner. The exquisitely styled interiors uses pure Italian marble flooring and highest quality Balarshah Teak wood that are totally unmatched by any other.
The spacious layout at Infiniti Homes maintains a premium feel, which allows pure relaxation in the comfort of your personal Villa. A private entrance leads up to your personal pad with uninterrupted views of the lush surroundings of nature.
Infiniti Homes features spacious living, drawing, dining areas and sizeable western kitchens which blend with the large outdoor area of your home. The master and other bedrooms lead you to a private terrace where you can enjoy breakfast or relax watching serene surroundings. Your own personal theatre packs a punch with rich feel of royalty and comfort. A separate entrance to the servant quarters with attached bath keeps you away from unwanted disturbances.
PROJECT NAME: VISION'S URJITH
LOCATION: TELLAPUR, HYDERABAD.DEVELOPMENT
SIZE: 40 ACRES
NUMBER OF UNITS: 279 VILLAS
Vision's Urjith is a gated community where the focus is to create a retreat like space that stands the test of time. A concept villa that offers you the pride to experience an ultimate lifestyle and also savour the beauty of nature at leisure. Situated in one of the most flourishing and vital areas of Tellapur, Hyderabad, Urjith will be a luxurious and sophisticated gated community of around 274 villas spread across approximately 40 acres, where fresh breeze will comfort you as you walk through the door of your home or spectacular views of nature unfolds in mysterious ways, enthralling you, every single moment.
Urjith will paint a perfect picture that not only will captivate your senses but also leave you mesmerized. So welcome. Give yourself the gift of superiority. It's what you need to live in pride.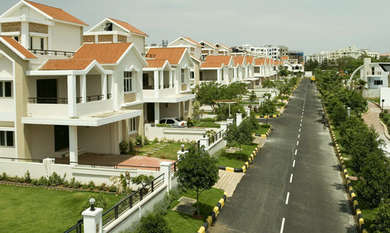 One of our earliest villa ventures today stands as an example of cutting edge engineering and master-class architecture. Aparna County is a thriving urban community of like-minded individuals from all walks of life who are equally responsible for the charm that Aparna County exudes.

Joint Venture between Aparna Constructions and Vision Avenues